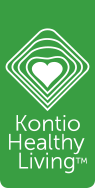 Kontio log houses are modern yet timeless, and they create the ideal living space – they're relaxing, comfortable, and wonderful to live in. Their wooden structures are beautiful to look at, long-lasting, and energy efficient. Better still, the unique properties of Arctic pine create an especially healthy indoor environment to live in.
Indoor environments have a very important influence on health and wellbeing because people spend about 90% of their time indoors, either at home, at school or at work. That's why every Kontio house is an example of healthy living. In fact, healthy living and wellbeing is the main focus our research and development work.
Kontio log houses are also designed to last. They are made from Arctic pine, which, because of its slow growth, contains a high percentage of heartwood. This heartwood is strong and durable and also has antibacterial properties. Kontio's homes are made from massive, completely natural wood, and our structures are designed to prevent the condensation of moisture, even in variable temperatures and conditions.
Kontio Arctic Pine is responsibly sourced and comes from sustainably managed Finnish forests, where more wood grows than is harvested each year.
Read more about Kontio Healthy Living™
Kontio houses are made of Finnish Arctic Pine™ which, in addition to being beautiful and durable, also has other special properties:

---

It promotes physical health by:

CREATING HEALTHY INDOOR AIR
EFFECTIVELY BALANCING INDOOR HEAT FLUCTUATIONS
PREVENTING THE GROWTH OF HARMFUL MICROBES, FUNGI AND BACTERIA
PREVENTING ALLERGIES
PROVIDING EXCELLENT ACOUSTIC PROPERTIES
Finnish Arctic pine

---

is ecologically sound and

AN ENVIRONMENTALLY FRIENDLY, 100% RENEWABLE MATERIAL
AN ENERGY-EFFICIENT CARBON SINK WITH A SMALL CARBON FOOTPRINT
DURABLE AND LONG-LASTING

---

It promotes mental well-being by:

REDUCING STRESS, AND LOWERING BLOOD PRESSURE AND HEART RATE
PROMOTING RESTORATIVE HEALTH EFFECTS
IMPROVING THE QUALITY OF SLEEP
CREATING A WARM, COMFORTABLE AND RELAXING ATMOSPHERE
Proven air tightness and energy efficiency

With 45 years of experience, Kontio offers you top quality housing. Kontio houses are manufactured in the world's largest log house factory, using the latest technology and the best know-how in the industry.

Our innovative log houses are a guarantee of top-quality, energy-efficiency and comfortable warmth. Our continuous product development ensures tight joints and seals in all our structures, creating energy efficient homes, which meet the strictest of today's energy efficiency regulations.
Kontio SmartLog™ is an innovative solution for massive wooden buildings. It offers:

ARCHITECTURE WITH FREE DESIGN AND STYLE FOR MASSIVE WOODEN BUILDINGS
THE HEALTHY LIVING™ BENEFITS OF KONTIO ARCTIC PINE™ MASSIVE WOOD
A DURABLE, LONG-LASTING AND ECOLOGICAL STRUCTURE
ADVANCED ENGINEERING AND PREFABRICATED JOINTS, DETAILS & TECHNICAL SOLUTIONS
LOW-ENERGY CONSTRUCTION
Kontio design
Bring your dream home to life with Kontio. By using logs as the material for your new home, you'll bring a touch of luxury and a unique atmosphere to your everyday life – while living in harmony with nature. Kontio log houses can be adapted to different styles and tastes, and our solid wooden houses are healthy and durable enough to last for last generations.
Kontio log house designs and architecture are timeless. We offer both modern and classic designs of varying sizes in our extensive collection. Our approach to the implementation of each model is flexible, giving you a variety of options for modification and customization. Whatever your wishes, we can build it for you. We can even build unique homes and designs based on your own architectural plans. Or, alternatively, we have an international network of architects who can help you design your unique home based on your needs and wishes.
New architectural possibilities & benefits
We have an extensive range of logs and corner solutions, from which you are sure to find the right options for your house and environment. And our innovative Kontio SmartLog™ logs provide unlimited possibilities for individual design. They enable you to combine building materials, while retaining the beneficial properties of massive wood.
Up!